All professionals at the dental office of David G. Feeney, DDS maintain the highest levels of accreditation and pursue ongoing education to stay abreast of the latest trends in the dental field. Read on to learn more about our staff's experience and training.
Dr. David Feeney
Dentist in Matthews, NC
David G. Feeney, DDS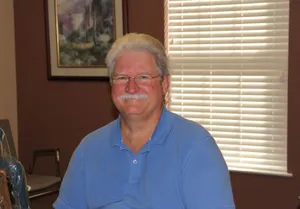 Dr. Feeney has lived in the Charlotte area since 1969. He attended Appalachian State Universit y and received a Master's Degree in Chemistry in 1981. In 1985, Dr. Feeney graduated with honors from the Dental School at the University of North Carolina at Chapel Hill. The honors he received included Dean's List '81-'85, Mosby Book Award for academic excellence '81-'82, and for the class of '85 he received Best Operative Dentist and the Monte Miska Award for excellence in prosthetic dentistry. Dr. Feeney was inducted into the National Dental Honor Society in 1985. Dr. Feeney has also continued to study with some of the best general and cosmetic dentists in the country. Dr. Feeney maintains membership in the American Dental Association , Academy of General Dentistry , North Carolina and Charlotte Dental Societies and the National Dental Honor Society . Dr. Feeney has practiced in the Matthews, NC area continuously since graduating in 1985.

"It has always been my philosophy that patients deserve the best treatment possible in a caring atmosphere, and that the patient needs to be educated so that they can make good decisions about their care. There are no insignificant questions, and we will always have the time to answer yours."


Laura West
Registered Dental Hygienist in Matthews, NC
David G. Feeney, DDS
Laura is a native to this community, living in Union County all her life. She is a registered dental hygienist who has been practicing for 31 years. Her favorite thing is getting to know each patient's specific needs and helping meet those individually. After working with Dr. Feeney for 26 years, they share the same concern and passion for their patients to understand the importance of dental health.
Laura enjoys spending time at the beach, boating on the lake and weekend trips to the mountains, with her family and friends.
Cathy McGinn
Dental Assistant in Matthews, NC
David G. Feeney, DDS
Cathy was born and raised in Charlotte, NC and currently lives Matthews, NC. Cathy went to Central Piedmont Community College and completed the Dental Assistant Program in 1972. Cathy has worked in the dental field all of her career and loves to help people with their dental problems. For many years she was a chair-side dental assistant, now she works manly at the front desk helping with our patient's scheduling, questions, concerns and insurance. Cathy has been with Dr. Feeney for 16 years and feels that they have a great team.

Cathy loves the Beach and spending time with Great Friends.
Angela Wilette, DA II
Dental Assistant in Matthews, NC
David G. Feeney, DDS
Angela is a native of Lake Wylie, SC and of Charlotte, NC and currently lives in Belmont, NC. Angela received an associate degree from C.P.C.C. and has been a DA II since 1986. Angela takes great pride in getting to know each of her patients and making sure they get the best personal care. Angela has a passion for dentistry and finds it rewarding to provide care that is of high quality, comfortable and puts a smile on the patient's face.

Angela enjoys traveling, spending time in the NC Mountains, hiking, exercising, growing flowers, cooking and simply enjoying life.