Posts for: June, 2021
By David G. Feeney, DDS
June 11, 2021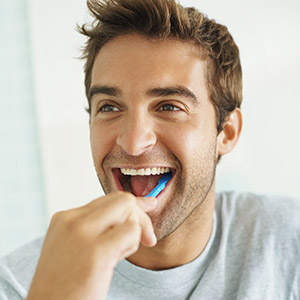 Forty years have passed since the first reported case of Acquired Immune Deficiency Syndrome (AIDS), and it and the human immunodeficiency virus (HIV) that causes it are still with us. About 1.2 million Americans are currently infected with HIV, with 50,000 new cases diagnosed each year.
The emergence of antiretroviral drugs, though, has made it possible for many with HIV to live normal lives. Even so, the virus can still have a profound effect on health, including the teeth and gums. Because of its effect on the immune system, HIV+ patients are at greater risk for a number of oral conditions, like a fungal infection called candidiasis ("thrush").
Another common problem is chronic dry mouth (xerostomia), caused by a lack of saliva production. Not only does this create an unpleasant mouth feel, but the absence of saliva also increases the risk for tooth decay and periodontal (gum) disease.
The latter can be a serious malady among HIV patients, particularly a severe form of gum disease known as Necrotizing Ulcerative Periodontitis (NUP). With NUP, the gums develop ulcerations and an unpleasant odor arising from dead gum tissue.
Besides plaque removal (a regular part of gum disease treatment), NUP may also require antibiotics, antibacterial mouthrinses and pain management. NUP may also be a sign that the immune system has taken a turn for the worse, which could indicate a transition to the AIDS disease. Dentists often refer patients with NUP to a primary care provider for further diagnosis and treatment.
Besides daily brushing and flossing, regular dental cleanings are a necessary part of a HIV+ patient's health maintenance. These visits are also important for monitoring dental health, which, as previously noted, could provide early signs that the infection may be entering a new disease stage.
It's also important for HIV+ patients to see their dentist at the first sign of inflamed, red or bleeding gums, mouth lesions or loose teeth. Early treatment, especially of emerging gum disease, can prevent more serious problems from developing later.
Living with HIV-AIDS isn't easy. But proper health management, including for the teeth and gums, can help make life as normal as possible.
If you would like more information on dental care and HIV-AIDS, please contact us or schedule an appointment for a consultation. You can also learn more about this topic by reading the Dear Doctor magazine article "HIV-AIDS & Oral Health."
By David G. Feeney, DDS
June 01, 2021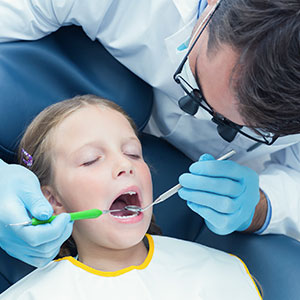 There are different ways to ease a child's potential nervousness with dental visits, like starting those visits around their first birthday or seeing a pediatric dentist who specializes in children. But even doing those things won't guarantee your child won't develop some form of dental anxiety, which could complicate their dental care.
To help make appointments easier for anxious children, many dentists use conscious sedation as a means of helping them relax. With this technique, the dentist administers a mild sedative to the child to take the edge off their nervousness, while allowing them to remain awake during treatment.
Sedation isn't anesthesia, the means we use to stop pain during treatment (although sedation may be used with anesthesia). Rather, sedation reduces emotional fear and anxiety. And unlike general anesthesia, a sedated child can still breathe without assistance and, depending on the depth of the sedation, respond to physical and verbal stimuli.
In most cases, children are administered sedation medications by mouth, usually as a syrup, although on occasion it might be delivered intravenously with an IV. The dose is usually given some time before their treatment session after the dentist has evaluated them. Dentists mostly use mild sedatives like Midazolam or Hydroxyzine with very little risk of side effects for children.
During the procedure, a designated staff member continually monitors the child's vital signs. Besides heart rate, pulse and respirations, they may also check the child's exhaled carbon dioxide levels to ensure they're breathing normally.
After the treatment session is over, staff will continue to monitor the child until their vital signs return to pre-sedation levels. If the child is of driving age, they'll need someone to drive them home. Children who've been sedated should remain home for the rest of the day, but they can usually return to school the next day depending on what kind of dental work they've undergone.
Dentists follow strict protocols for pediatric sedation adopted by the American Academy of Pediatrics, the American Dental Society, and the American Academy of Pediatric Dentistry. In addition, many states have also established processes for administering sedation therapy. It's a safe and effective method to ease a child's anxiety over their dental visit.
If you would like more information on making dental visits easier for kids, please contact us or schedule an appointment for a consultation. You can also learn more about this topic by reading the Dear Doctor magazine article "Sedation Dentistry For Kids."