Posts for tag: braces
By David G. Feeney, DDS
March 15, 2018
It's a common sight to see someone wearing braces—and not just teens or pre-teens. In the last few decades, people in their adult years (even late in life) are transforming their smiles through orthodontics.
If you're an adult considering treatment to straighten your teeth, this particular dental specialty might be an unfamiliar world to you. Here are 3 things you may not know about orthodontics.
Orthodontic treatment cooperates with nature. There would be no orthodontics if teeth couldn't move naturally. Teeth are actually held in place by an elastic tissue called the periodontal ligament that lies between the teeth and bone. Small fibers from the ligament tightly attach to the teeth on one side and to the bone on the other. Although it feels like the teeth are rigidly in place, the ligament allows for micro-movements in response to changes in the mouth. One such change is the force applied by orthodontic appliances like braces, which causes the bone to remodel in the direction of the desired position.
Treatment achieves more than an attractive smile. While turning your misaligned teeth into a beautiful, confident smile is an obvious benefit, it isn't the only one. Teeth in proper positions function better during chewing and eating, which can impact digestion and other aspects of health. Misaligned teeth are also more difficult to keep clean of bacterial plaque, so straightening them could help reduce your risk of tooth decay or periodontal (gum) disease.
Possible complications can be overcome. Some problems can develop while wearing braces. Too much applied force could lead to the roots dissolving (root resorption), which could make a tooth shorter and endanger its viability. Braces can also contribute to a loss of calcium in small areas of tooth enamel, which can make the teeth more vulnerable to oral acid attack. However, both these scenarios can be anticipated: the orthodontist will watch for and monitor signs of root resorption and adjust the tension on the braces accordingly; and diligent oral hygiene plus regular dental cleanings will help prevent damage to the tooth enamel.
If you're dreaming of a straighter and healthier smile, see us for a full examination. We'll then be able to discuss with you your options for transforming your smile and your life.
If you would like more information on orthodontic treatment, please contact us or schedule an appointment for a consultation. You can also learn more about this topic by reading the Dear Doctor article "Moving Teeth with Orthodontics."
By David G. Feeney, DDS
January 06, 2018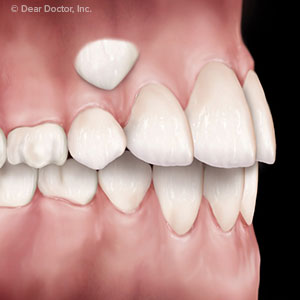 You don't have to be a dental professional to appreciate a beautiful smile. Likewise, you'll also know when something's not quite right with one.
Such can be the case when a tooth fails to erupt properly, causing most or all of the crown to remain below the gum line, a condition known as impaction. Upper canines (or "eyeteeth," for their location in the arch under the eyes) are especially susceptible to impaction: located on either side of the lateral incisors, which are on either side of the central incisors (the two center front teeth).
The upper canines are important both for function and appearance. Working with their lower counterparts they help cut through food as we chew, so you lose some of that efficiency when they don't erupt properly. Impacted teeth are susceptible to abscesses and cysts, and can impinge upon and damage the roots of other teeth. And just as importantly, their absence also disrupts the smile as nearby teeth tend to move or "drift" toward the open space.
Rather than remove the impacted canines as is often done with back teeth, it may be more advantageous for both function and appearance to "coax" them into full eruption. This requires first pinpointing their exact location below the gums using x-rays or cone beam 3-D imaging.
If the teeth are in reasonably good position we must first prepare them for orthodontic treatment by surgically exposing the crown from the gums and bonding a small bracket to it. We then attach a small gold chain to the bracket that extends outside of the gums when we suture them back into place. The chain is attached to orthodontic hardware that exerts pressure on the impacted tooth for several months to "pull" it out into the arch.
This procedure has the best chance of success if undertaken before the end of jaw development in early adulthood. Otherwise, it may be better to remove the impacted canines and replace them with dental implants, followed by orthodontic treatment of other teeth to restore their proper position and bite relationships. In either case, your impacted upper canines don't have to be a problem — we can restore both your mouth function and your smile.
If you would like more information on impacted teeth and treatment options, please contact us or schedule an appointment for a consultation. You can also learn more about this topic by reading the Dear Doctor magazine article "Exposing Impacted Canines."
By David G. Feeney, DDS
March 10, 2017
There are a few things you need to do — and not do — while wearing braces: avoid hard or sticky foods, for example, or wear protection during sports to avoid injury. There's one important thing, though, that should be at the top of your list — extra attention to daily brushing and flossing.
The fact is your risk for developing tooth decay or periodontal (gum) disease increases during orthodontic treatment. This is because the braces make it more difficult to reach a number of locations around teeth with a toothbrush or floss. Bacterial plaque, the source for these dental diseases, can subsequently build up in these areas.
Teen-aged orthodontic patients are even more susceptible to dental disease than adults. Because their permanent teeth are relatively young they have less resistance to decay than adults with more mature teeth. Hormonal changes during puberty also contribute to greater gum disease vulnerability.
There are some things you can do while wearing braces to avoid these problems. Be sure you're eating a nutritious diet and avoid sugary snacks or acidic foods and beverages (especially sports or energy drinks).  This will deprive bacteria of one of their favorite food sources, and the minerals in healthy food will contribute to strong enamel.
More importantly, take your time and thoroughly brush and floss all tooth surfaces (above and below the braces wire). To help you do this more efficiently, consider using a specialized toothbrush designed to maneuver around the braces. You might also try a floss threader or a water irrigator to remove plaque between teeth. The latter device uses a pressurized water spray rather than floss to loosen and wash away plaque between teeth.
Even with these efforts, there's still a chance of infection. So, if you notice swollen, red or bleeding gums, or any other problems with your teeth, visit us as soon as possible for an examination. The sooner we detect and treat dental disease while you're wearing braces, the less the impact on your future smile.
If you would like more information on taking care of teeth while wearing braces, please contact us or schedule an appointment for a consultation. You can also learn more about this topic by reading the Dear Doctor magazine article "Caring for Teeth During Orthodontic Treatment."